---
---
---
Data Request Letter
---
Betsy Devos Letter
---
News & Events
SAE Institute North America's President to Represent For-Profit Institutions in Federal Negotiated Rulemaking
---
CSPEN Annual Conference
Please join us for the 4th CSPEN Regional Annual Conference being held at the Renaissance O'Hare, You won't want to miss the opportunity to hear from topic experts, network with fellow school representatives, and explore products and services that can help make your school – and students – and even greater success.  Register today!
Wednesday, August 16th – Friday, August 18, 2017
Intercontinental St. Paul Riverfront – 11 East Kellogg Boulevard Saint Paul, MN 55101
---
---
Northwestern College Conducts 112th Commencement! IL Lt. Governor Sanguinetti Presented Keynote
Northwestern College President Lawrence Schumacher announced that over 200 students were awarded certificates and degrees at the College's 112th Commencement Ceremony held earlier this month at the Arie Crown Theater at McCormick Place in Chicago. Graduates completed their studies at the College's two Illinois campuses, including Bridgeview and Chicago-Jefferson Park, as well as on-line.
Read the full Article here: http://www.chicagotribune.com/suburbs/joliet-romeoville/community/chi-ugc-article-northwestern-college-conducts-112th-commencem-1-2016-06-29-story.html.
---
Northwestern College Continues to go "Green" with Eco-Friendly Caps & Gowns
Northwestern College President Lawrence Schumacher announced that once again the College featured environmentally-friendly caps and gowns at commencement. Through its ongoing efforts to "go green" whenever and wherever it can, the College again utilized the Jostens Elements Collection™ for its regalia. The Elements™ regalia is sustainable as it starts from nature and returns to nature. The continued use of environmentally-friendly regalia is in support of Northwestern College's efforts toward sustainability and its mission to go green, thus assisting the college in reducing its carbon footprint and helping to preserve our environment.
Read the full Article here: http://www.chicagotribune.com/suburbs/des-plaines/community/chi-ugc-article-northwestern-college-continues-to-go-green-2016-06-30-story.html.
---
CSPEN Supports Bipartisan Efforts to Simplify and Improve the Student Financial Aid Process.
CSPEN supports swift Committee passage of the three bills up for review because of the benefits which they provide to students, but challenges the Committee to go even further in the development, consideration, and advancement of other needed and necessary reforms as well. Click here to read the letter to Congress.
---
Save Our Schools: A Legislative Outreach Plan That Can Impact Your Survival
Beth Gardner and Tony Palmieri, Valley College
The Gainful Employment regulation is a brutal reality. Think you're safe? Think again. Your numbers may not be what you think they are. The only way to save your students and your school from this harmful regulation is to ask for the help of your local members of Congress. We must influence their actions as Congress begins work to reauthorize the Higher Education Act. It's not rocket science but it requires work. This session will start with a brief review of a few elements of GE and how they affect your numbers – you may not believe your eyes! Then we will show you a proven, step by step method for finding and inviting your legislators and hosting an impactful visit. These are OUR representatives and they CARE about their constituents. We and our students have a great story to tell. Let us give you all the resources to spread the truth about our positive impact on the people and businesses in the communities we serve.
See the full Webinar here: https://attendee.gototraining.com/7mv64/recording/4365883970078141954.
---
Innovation In The Classroom: Tips to Engage Today's Learner
Martin Atkins and Dr. Michele Ernst, SAE Institute
Today's students come to the classroom with many distractions, challenging even the more seasoned instructors with how to get their attention. In this presentation, Martin and Michele will share tips to engage the new learner, including sharing the learning theories that support these innovative ideas. This presentation is for faculty who are interested in learning about new ways to engage, motivate and, in some ways, entertain their learners.
See the full Webinar here: https://attendee.gototraining.com/7mv64/recording/4703149265829304577.
---
Winter Webinar Series
Sponsored by Pearson
Sustainability and Wellness as Tools for
Differentiation in the Market
Did you know that 80% of young professionals would like to work in a green job and that by 2038, the
United States is expected to have 4.2 million new green jobs? This is five times today's current count.
With green jobs outpacing the growth of other sectors, there is a bigger need than ever to integrate
sustainability into corporate cultures and core offerings.
CSPEN has offered members of the NWCCF to join this free webinar, sponsored by Pearson. Your hosts,
Kristin Ferguson and Margo Street from the U.S. Green Building Council will discuss recent trends in job
creation and employability as well as how corporate cultures can create a market advantage for
companies embracing sustainability and wellness.
Following this webinar, you will be able to:
1. Identify tools that support leadership in sustainability, health and wellness.
2. Describe the changing landscape of employability, recruitment and retention.
3. Use sustainability and wellness to reinvigorate corporate cultures.
4. Differentiate yourself through leadership initiatives from the competition to your customers.
Tuesday, February 2nd
10:00 AM (Pacific)
This webinar is being offered at no cost to NWCCF and CSPEN members, but you must register to
participate.
Registration https://attendee.gototraining.com/r/6865338881405332226
Call-in instructions will be emailed after registering. A certificate of attendance will be electronically sent upon completion of the event.
For more information call 360.292.4798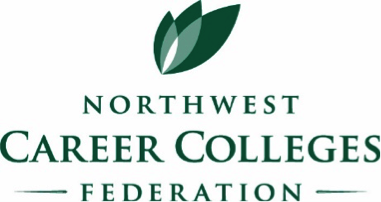 ---
Admissions Training Offered to the NWCCF and CSPEN States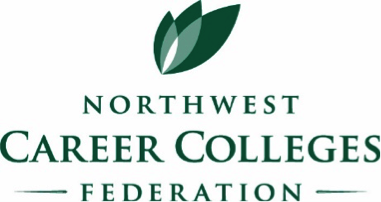 The NWCCF and CSPEN are pleased to partner to bring schools in our eight state area this extraordinary training opportunity. Register today!
Live Interactive Webinar
Thursday, February 25, 2016
Noon – 1:00 PM (PDT)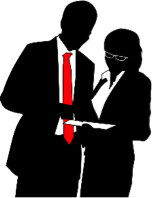 You're Hired!
"Finding and Retaining the Best Admissions Talent"
To be the best team you have to hire the best team members. The role of an admissions professional is more important than ever and has changed from the "sales" and "numbers" role of times past to a "right fit" process. Finding the best candidate who can make an immediate impact is more challenging than before.
Whether you're building a new team, or strengthening an existing team, looking to move up the ladder or ensure your own job growth, this interactive webcast will provide you with:
The profile and key characteristics of the ideal Admissions Representative
Hiring pitfalls to avoid
Interview questions and techniques to identify the best candidate
Best practices for motivating and retaining admissions team members
This is NOT your typical slide-by-slide webinar. During this high-energy and interactive webcast, you'll learn how to shape an exceptional, ethical and productive admissions team or how to be the best possible admissions team member.
$39 per person

Click here to register

After registering, you'll be sent instructions to participate in the training
For more information call 360.292.4798, or email contact@nwcareercolleges.org.
About the Presenter
Matthew Schmoker has dedicated his career to higher-education for the last 20 years as an award winning enrollment management expert, consultant, executive coach and nationally-acclaimed speaker. With an unparalleled ability for transforming low performing campuses to outperforming expectations, and committed to supporting institutions in maximizing their enrollment potential, Matt founded Legacy Solutions, the premier admissions training and strategic enrollment management group.
As such, Matt's expertise, enthusiasm and admissions philosophy have earned him the industry reputation as the "Admissions Whisperer." Through the support Matt and his team provide both private and public institutions in surpassing enrollment goals through innovative and strategic approaches to training and the admissions process, Matt, and Legacy Solutions, continue to be trusted national and international partners helping schools transform and experience unprecedented growth.
---
Included States
Affiliate Companies